Banks, Hotels, Offices & Retail
Saliba Construction Co., Inc. has provided construction services for a vast range of banks, office buildings, and retail buildings in its sixty five year history.
As construction techniques evolved so has the Company. We completed a private office building for LPB Architects in Lawrenceville, Georgia. The building served as the architect's home office and incorporated GREEN construction design throughout the building. The construction process utilized GREEN design and building concepts through the building phase. The building earned full GREEN certification and Salba was awarded a Build Georgia Award. The unique design and construction of the building serves as a landmark to traffic entering the City.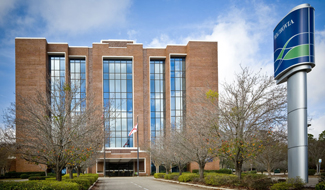 The Company constructed the six story bank tower for Wachovia Bank (now Wells Fargo). The building infrastructure was concrete pan slabs and shear walls. All exterior elevations consist of a blue curtain wall system with marble window surrounds. All interior floor spaces are constructed with exquisite high end finish materials. Interestingly the Company was called on to provide an unusual expertise as the fifth floor was occupied by the FBI and is built of all bullet proof material on all public flanked walls.
The Company has built a number of hotels for companies including Holiday Inn, Hampton Inn, Sheraton, and Comfort Inn and Suites. These hotels range from two to five stories in height. Two of these projects were replacement hotels for existing hotels on the existing site. Needless to say, construction time was a factor due to lost revenue. In all cases, construction schedules were met, or finished ahead of time.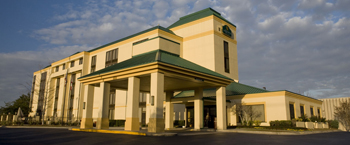 The Company has built many private office complexes for physicians, dentists and lawyers to mention a few. The most notable being Eye Center South. We had to completely rework an existing 40,000 square foot facility and bring it up to current IBC codes, as well as add an additional 40,000 square feet of new space to the North end of the building. We constructed new entrances on the South end of the building, and completely refaced the exterior of the building to give it an updated appearance. Our roofing subcontractor won a Build Alabama Award for the intricate metal roof around the eaves of the building.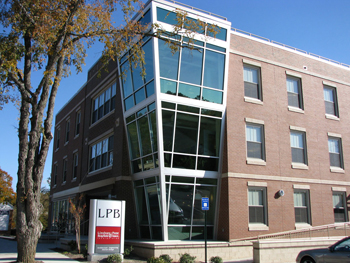 Southern Bone & Joint Specialists office building was constructed using a 1031 land exchange. The Company owned the building until completion of construction, then swapped buildings with one of our hospital clients. The building features mirrored ceramic tile columns at the entrance, and a beautiful and elaborate glass rail system on the second floor mezzanine.
The Company helped develop and build retail spaces including an outlet shopping center located in Graceville, Florida. We have completed finishes in jewelry stores, book stores and a multitude of clothing outlets. The Graveville center was constructed to complement the existing Vanity Fair outlet located in the same area.