Churches & Family Life Centers
Saliba Construction Company, Inc. is a preeminent church builder in its service regions. Indeed, the Company has built more than 20 churches in the last twenty years; more than one a year. Compared to other types of building, church construction requires some of the most intricate and detailed finishes in the building industry. We have built churches for almost all denominations over the last sixty five years.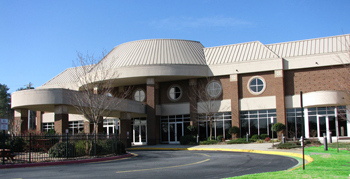 The Company's first commercial general contracting project in 1956 was a new sanctuary for Lafayette Street Methodist Church in Dothan, AL. This church building contained extremely intricate stone work around the arched entrances, which was all hoisted and set by hand. This project set the tone for Saliba's rich resume of churches and religious buildings.
Saliba was the general contractor for the First Presbyterian Church building which featured extensive decorative brickwork, stone windows, and arched cathedral ceilings supported by large laminated arched trusses. Few church builders could execute as well the beautiful clear span tongue and groove decking and the backdrop for the pulpit which is made with hundreds of raised crosses laid in the brickwork.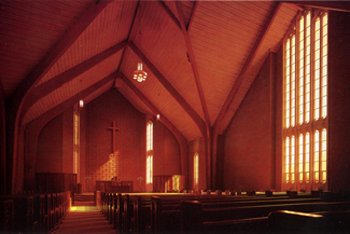 The Company which does extensive remodels, refurbished and doubled the size of First Baptist Church in Dothan, as well as building one of the first Family Life Centers in the community. One challenge of this church construction was to match the intricate caps on the stone columns of the original church building which was constructed in 1928. We used limestone with advanced water cutting techniques to obtain a near perfect match.
Gainesville Baptist Church asked us to build a balcony inside the sanctuary of the existing church. The biggest contractor challenge was allowing the normal activities and services to continue during the entire construction process. This included recoating the entire ceiling of the sanctuary, in addition to coordinating the church's new lighting and sound system. All normal services were held with no delays or downtime to the church.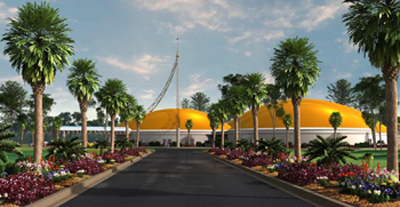 The Company entered a new realm of church construction with the new facility for Northview Christian Church. This church building consisted of two monolithic domes with very high end finishes and intricate sheetrock work on the interior. The domes are currently under review by FEMA as a federal evacuation shelter. The domes will withstand a direct hit from an F5 tornado.
In the last several years, the Company has constructed five Family Life Centers for various churches whose effort is to give children alternatives to hanging out on the streets. This type of church construction usually includes a full basketball gymnasium, weight room, and sometimes even an elevated running track. Family Life Centers are a good way for the churches to expand their classroom and cafeteria capabilities.